I was a first time marathon spectator at my friend Jennifer's first marathon this weekend. I have participated in races where there was a marathon component, but this was my first time going out purely to support the runners. I also got a bonus of being able to cheer on an old friend that I want to reconnect with, Cheri.
It was a scorcher. Duluth, MN is probably not the first place you would think you need to worry about the heat and humidity for a race, but the weather was oppressive. Goals had to be adjusted and some were not able to finish with reports of from 88-93% humidity.
That being said, the first finishers showed no signs of even feeling it. They didn't run. They floated. Their feet hardly touched the ground. It is one thing to see elite athletes on television or at a distance, but seeing it up close and personal was breathtaking.
Being near the end (but not quite the finish) I was able to catch a great spot near the water and of the runners on the last leg of their journey. Of course, I got a bit too much sun because I decided to be different and stand on the other side of the road as everyone else. There was no shade and I didn't even think to put on sunscreen, but I was able to catch some great shots.
I chose that spot because I wanted us to be able to see each other and I know as a runner myself that it is often the very last leg of a race where you really need the encouragement and that push. Once you see the end and you hear the announcer it is easier to kick it into gear.
I knew that both Jennifer and Cheri were slower than they otherwise would have been, but they smiled so wide when they saw me. Jen gave me a high-five and Cheri told me I rocked. It was very touching to be there cheering them on. If you haven't done this for a runner, I suggest you do so. It was just the lift my heart needed.
Jennifer was disappointed to fall just short of qualifying for Boston (and would have in better conditions), but for perspective she was still wicked fast and felt amazing during and after, because she worked hard, but also was smart enough to adjust her expectations.
She just had to put some ice cubes down her bra to keep her core body temperature down!
I cried happy tears watching her as she zoomed on past and raised her arms in victory as I yelled after her "Go Jen go!" She was so happy. This woman has overcome a lot and worked very hard to get to this point. It was pretty amazing to see her: survivor, warrior woman, my friend, 40 years old and no signs of stopping, running the 40th Grandma's Marathon. I know she was a little disappointed to just fall short of qualifying for Boston, but she will and I will be there (even if just figuratively) cheering her on with everything she undertakes because she is a warm, thoughtful, smart, and determined woman and she has learned how to roll with what life has given her and not give in or give up.
Cheri too had to go slower than she would have liked, but she was a rock star and it was such a pleasure cheering her on. I look forward to reconnecting with her as it has been years since we have hung out and she too is a phenomenal person.
I know it was hard to do, but both Jennifer and Cheri finished that brutally hot and humid race. They pushed themselves and I am deeply inspired by them. I think of all the other runners. Each of them also have a story. I wonder what makes them different and I know what binds them together. They all got out there and faced this challenge. They all tried.
We all know the term 'dig deep' and there is no better place to see that than a race. Hopefully we respect our bodies enough to adjust when our race isn't going exactly how we want and push ourselves when we ought to do so. But that is life isn't it?
Running may be an individual support, but we aren't in this alone. We cheer each other on in running and in life and we all succeed when we make the best of the circumstances. We need to learn how to make adjustments when life isn't going exactly as we would hope, to not hurt ourselves by pushing too hard, but to not also lay back and not challenge ourselves to be our best. Jennifer is an inspiration to me in her running and how she moves through this world with so much grace.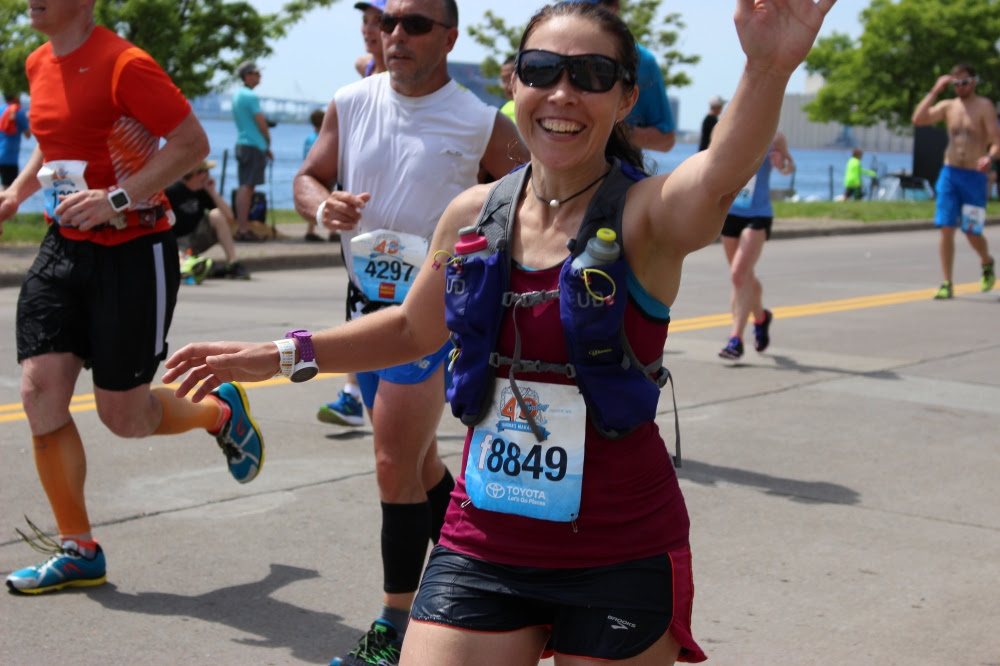 This is the picture of someone who has so much joy and love to give the world giving me a high-five on the final stretch of her first marathon. She is incredibly fast because she works very hard at it, but as impressive as a runner as she, she is an even better friend and it is the very reason she is able to accomplish so much in her running that she is successful in life. I am so glad that we have each other. While life can sometimes be hard you can always get through it with friends like Jen. This smile says a million words.
No matter what the speed was for anyone this weekend, people with the right attitude and joy in their hearts won. This is the picture of a winner. I am blessed to also call her 'friend.'
❤ Always Jenny
P.S. Her sister designed this amazing woman running with a book shirt design! So cool, right?! Reminds me of my run last week!